My Journey as a
Classic Vehicle Emblem Restorer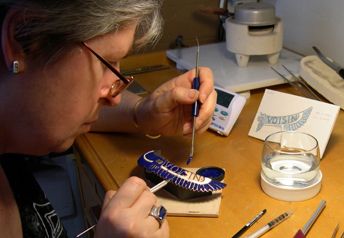 I find enjoyment working with a technical craft that is centuries old but is still unique in our modern world. The visual reward is a vibrancy of opaques and luminosity of transparent enamels that is commanding.
I have had a lifelong love of jewelry and glass. Originally, I made stained glass windows and viewed them as architectural "jewelry". Later, after discovering enameling, was thrilled to be able to create silver and high karat gold jewelry combined with glass using the cloisonné process.
I continue to feel I am in the jewelry world but now working on "jewelry" for vehicles. I appreciate the craftsmanship and design that was used to create the early vehicle emblems.
My introduction to car badges was in 1990, a damaged 1936 Mercedes Benz emblem for a custom vehicle. This one-off car was purchased as a pile of rusted parts for $1,000,000. It was fascinating to watch the progress as those parts evolved into a show car.
Over the years my portfolio has grown to include drivers, customs, classic and concours show cars plus many one-off's or limited production vehicles.
I am committed to providing:
The highest quality of craftsmanship
Professionalism
Communication
Commitment to deadlines
I'm very proud of these responses from past clients:
A big, big thank you for an incredible job. -- Ross M. [1935 Voisin C25 Coupe]
As always, you did a stunning job. It makes our job easier knowing we don't have to worry about anything we send your way.
-- Mike S. [1929 Isotta Franchini]
I received the Mitchell badge today and it is stunning. -- Karl D. [1912 Mitchell]
They are FABULOUS!! Many thanks for your great work. -- Mitch C. [1956 Maserati Motorcycle]
The Republic emblem showed up today and it is absolutely gorgeous!! I couldn't be happier with the results.
-- Fred C. [1932 LaFrance-Republic truck]
All I keep saying is WOW! Thank you again for working on this for me and making it look better than I could have ever imagined.
-- Alan D. [1920's California State AAA badge]
The emblems have arrived and they are fantastic! All are perfect. Many thanks for your expertise.
-- Bob D. [2 Scaglietti for 1955 Competition Ferrari 857 Super Monza & 2 Carrozzeria GranSport for Stanguellini Formula Junior]
I want to thank you for the outstanding service you provided for us recently. The final product is amazing and we couldn't be more pleased with the result. -- Jeff C. [1911 Benz Open Tourer]
The emblem is here and beautiful. Very very nice! I'm impressed and delighted.  -- John R. [1910 Chalmers-Detroit]
The emblem for my fire truck turned out great. It's amazing to see the difference after receiving it back. Thanks a lot, appreciate helping me out in a short time period.  -- Doug T. [1938 Schacht Ahrens-Fox Rotary Gear Pumper]
I received the horn button and it is great! Thank you for your talented work in saving these important pieces of the puzzle when we are preserving the wonderful cars. -- Vivian L. [1938 Packard]
Emblems just arrived and look terrific!!!! Very very happy with your fine work!!!!  -- Jim F. [1929 Ruxton]
The emblems arrived today and are stunning!!! Thank you for applying your talents to my emblems and accommodating my schedule needs! -- Loren H. [1936 Chrysler Airflow C10 Imperial Sedan]
The badges are too great to put on a bike. You are truly the best! -- Herb H. [1939 BSA Goldstar Motorcycle]
The Ferrari badge arrived this afternoon. It is beautiful. Perfect. Thank you!
-- Paul R. [1958 Ferrari 250 Testa Rossa Scaglietti Spyder]
The horn button crest was just delivered and it is a beautiful piece of artwork. The attention to detail and workmanship is exquisite. Your work exceeded my great expectations. -- Ron W. [1940 Packard]
The badges came today and they are wonderful. You have done a fantastic job!
-- Tony P. [Tags & Custom Don Lee Special emblem for 1932 Ford modified for racing]
Wanted to let you know, what a beautiful job you did on the Premier emblem. -- Bill A. [1911 Premier]
They're just fabulous. Truly exquisite. They are going to make the restoration. -- Jim D. [1930 Opel Motoclub Motorcycle]