Bringing Pieces of History
Back to Life
Pristine Restoration of Vintage Car Badges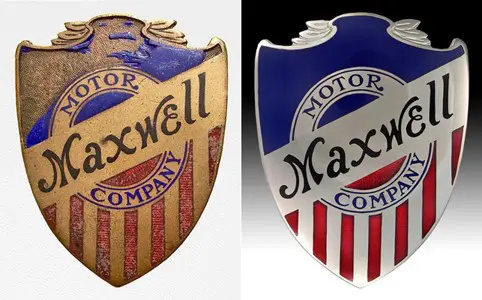 Before and after images for restoration of a 1913 Maxwell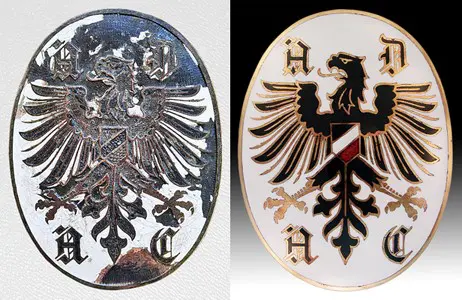 Before and after images for restoration of an ADAC German Automobile Club
Here you will find the fascinating and highly demanding art of restoring vintage automobile emblems. If you have a damaged enamel emblem that needs to be restored, you've come to the right place.
Working on Emblems for
Award-Winning Vehicles Since 1990
I restore emblems and badges to a 100-point show quality level and all are mechanically functional. I work with individual owners, show judges, and professional restorers.
I am honored to have worked on emblems for multiple vehicles that have shown, and taken awards, at Pebble Beach, Amelia Island, Hershey, Newport Beach, The Quail, and Villa d'Este.
Many of the vehicles are featured in publications and others reside in museums. I really enjoy being able to bring an item back to life and being part of the history of these classic automobiles.
The emblems were works of art that showcased the maker's logo with durable and vibrant vitreous [glass] enamel colors. They began to disappear in the 1940s except on high-end cars. They remained common in Europe through the 1960s. Some modern prestige vehicles still carry vitreous enamel emblems.
These automotive "jewels" ultimately could be found on the radiator or hood, trunk, side panels, hubcaps, dashboard, horn, headlights, and as coach builder tags. Just those, multiplied by the different manufacturers, models and years can run into thousands of variations.
There are additional personal badges an owner may attach to the vehicle: The countries visited, professions, clubs, rally, insurance, and good driving. Then there are the pins, plaques, jewelry, and watch/key fobs.
I've also been contacted regarding emblems for boats, bicycles, ovens, beer tap handles, key fobs, motorcycles and even a carousel. One project was a tiny ½" emblem that designated the caliber for a German handgun and was set in the grip.